AFC South Indianapolis Colts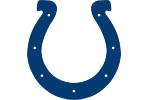 Finished 2004 season 12-4, 1st place in the AFC South
Key returning starters:
Peyton Manning – QB
Edgerrin James – RB
Marvin Harrison – WR
Reggie Wayne – WR
Brandon Stokley - WR
Biggest question from the Colts camp is, can they get over the hump and beat the Patriots? With the core of their prolific offense returning, Peyton Manning and company are setting their eyes on the Super Bowl. How will the Colts defense perform?
2004 Stats:
Ranked 2nd overall in offense, #2 ranked in AFC
Ranked 29th overall in defense, #14 ranked in AFC
Your thoughts on the Indianapolis Colts this upcoming 2005 season...strengths/weaknesses and your prediction on where they will finish in the division.