NFC North Minnesota Vikings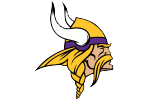 Finished 2004 season 8-8, 2nd place in the NFC North behind the Packers
Key returning starters:
Daunte Culpepper – QB
Nate Burleson – WR
Marcus Robinson – WR
Jermaine Wiggins – TE
Michael Bennett - RB
The Vikings are now Moss-Less, having traded the most athletic WR in the NFL to the Raiders in order to cut the controversy Moss causes in the locker room. Also the loss of Ontario Smith for the season for a violation of the leagues substance abuse policy – how will this affect the Vikings offensively? The off-season moves the Vikings made only improved their weak defense and hope the combination of players will give them the edge in the NFC North.
2004 Stats:
Ranked 4th overall in offense, #2 ranked in NFC
Ranked 28th overall in defense, #15 ranked in NFC
Your thoughts on the Minnesota Vikings this upcoming 2005 season...strengths/weaknesses and your prediction on where they will finish in the division.